Residential Services
Carpet Cleaning
We use state of the art equipment and cleaners that will thoroughly flush soil and stains from your carpet. We also utilize the RX-20, which has revolutionized the way carpets are cleaned!
Pre-Inspect Carpet
Pre-Treat
ExtractRinse and Post-Inspect
Also Available: Scotch Guard Protector

Tile and Grout Cleaning
Highly Powered Turbo Cleaning System safely pressure cleans both tile and grout to renew the beauty of your floors.
Alkaline pre-conditioner for oil base soil
Acid pre-conditioner for water base soil
High Pressure Steam Rinse
Speed Dry
Also Available: Impregnator Sealer

Upholstery and Area Rugs
Using the Drimaster Upholstery Tool results are nothing short of AMAZING, sheers away soil without over wetting, leaves the fabric cleaner, and 50% drier!
Carpet Repair
From the smallest to the largest, our technician has years of experience to restore your carpet.
Power Restretching
Pad Replacement
Pet Damage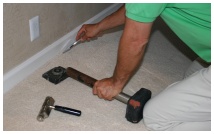 24/7 Flood/Water Removal
Do not panic! We offer 24/7 emergency water extractions. Insurance claims welcomed.